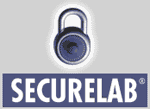 To E-Mail SecureLab please use following address:
We would like to hear your thoughts!
SecureLab, Computer Network Security is a computer security consulting, news, and information provider. Our mission is to highlight current security news
issues that are of high security interest. We welcome submissions and feedback concerning our content.
Secure Lab, Computer Network Security
Copyright ©1998 - 2011 | All Rights Reserved.

SecureLab Site Map: Home | Security Links | File Download | Site Search | | News Archive | About SecureLab .